Do you know what Buffet is?  No, not an old buffet in the middle of nowhere. This article is about a new cafe network that may interest you in Kharkov.
Many students like to eat after class or just get a take out and walk around the city.  An ideal place for this is the Buffet.  Students like it for delicious food, the opportunity to have a good rest, atmosphere and relatively low prices.
WHAT CAN I BUY IN BUFFET?
Buffet is positioning itself as a fast food cafe, with the slogan "So tasty, so fast."  There is what students love most - pizza.  And it is the hallmark of this establishment.  The choice is not small: Fitness, Firm, Salami, Hawaiian, Mushroom and others.
Everyone will be able to find something to their taste.  If you have not been to Buffet yet, I recommend trying the Brand pizza, Salami or pineapple pizza.  Also, in addition to the favorite food of most students, Buffet has various salads, first and second courses, pastries and desserts, cold and hot drinks.
Pad Tai's noodles and okroshka are favorite dishes for students. Lemonade, black tea, Mega Latte and milkshake are popular drinks.  More recently, the cheeseburger and blackburger have appeared on the menu.
WHERE IS IT?
Near KHNURE, within walking distance, you can find 4 Buffet cafese: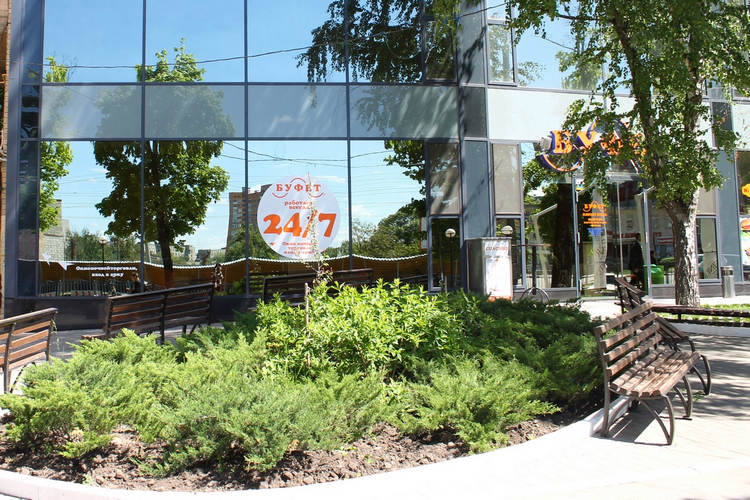 - st.  Kultury, 23 (the street intersects Science Avenue, near the metro, from the back exit, which is closer to the center);
 - st.  Sumskaya, 41;
 - Independence Ave., 5 A;
 - 38, Nauki Ave. (near Sargin Yar).
 EVEN FASTER, IMMEDIATELY AFTER CLASSES
Few people know, but in Buffet there is the opportunity to pre-order. Sometimes you have to wait a long time for your pizza. You can find contact information on Buffet website of each cafe. You can make a call and order in advance.  What about the tables, there is not always a free place to sit down.  In this case, there are three options: to wait, to go to another Buffet, or to take food with you and eat in the park.
 THE VERDICT
Buffet is one of the coziest fast food cafes in Kharkov.  You can go there with a large company of friends or alone.  You can always eat hot pizza and drink delicious lemonade.
 Relax after class, take pizza home or just stop by for a glass of hot coffee on a cold day.  And if you still doubt that this is the best place for a snack, take a look there on the weekend or after classes, and see for yourself.
Best wishes, Mark Harlanov.